Join us for our next Diné Culture Night on March 23rd, 2022, from 5:30pm – 6:30pm! We will be hosting Don Whitesinger, who will be presenting on Diné Art.
The meeting will be live-streamed via Zoom. The Zoom link will be sent to your email before the event starts. Please register by clicking the button below.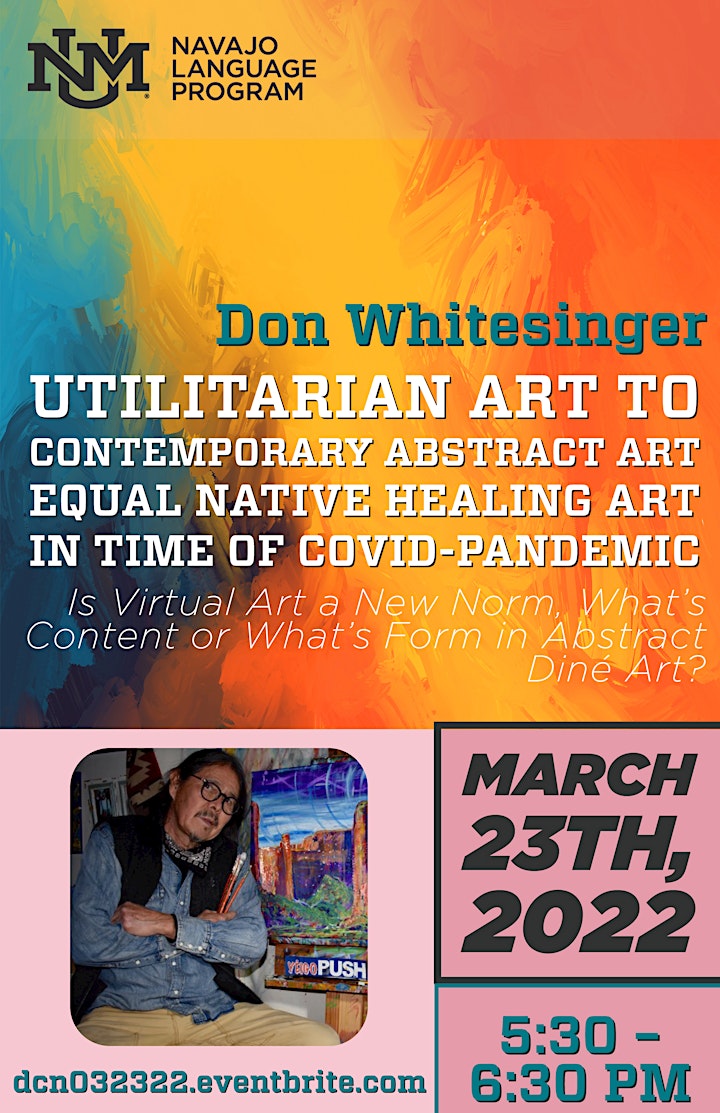 Don Whitesinger's Bio
My art epitomizes my strength, control and personality. As a contemporary abstract artist, I spontaneously create art for the sake of art. My work represents both the energy and life of my endeavors at Canyon de Chelly near Wild Cherry Canyon on the Diné Nation. I think of the past of the Diné people and the modern art movements in the art world. My work is full of spirit and innovative sporadic spontaneity. I call my work "Daz Art", Nidaaz, heavy, is a word whose meaning is closely associated with those of power and burden.
When my self-conscious is ready to produce art I tend to be obnoxious. I have a tendency to let my unconscious flow in producing art. Art and culture play a major part in my production in art especially when a culture survives through the arts. I believe in order to produce art one has to adapt with certain ways of life. An artist is a healer through visual concepts the accomplishment is rejuvenation for new ideas. As life changes so does my content of my work. At this point in my life I am painting landscapes with spiritual motifs as my guide also Covid 19 Pandemic has affect our production of art.
The whole concept of virtual teaching in a visual oriented society, the Diné world is very complex. Some students are not oriented to abide by the rules that were set aside by the Holy People in our dual Navajo world. Students are more oriented toward instant gratification. In Navajo society there are rule to governor you to. Where as in the dominate society it a lot easier to governor yourself. I try to incorporate certain value into my teaching, which are Diné and Western values. I know at times it hard for student because of certain temptation that hinders their place in Diné society. Art is healing process for a person, which was given to us by the Holy ones.