The Robert W. Young Scholarship has supported 33 UNM students studying the linguistics of indigenous languages. Robert W. Young, a prominent figure in Navajo linguistics is known for his publications that are tremendous with an in-depth analysis of the Navajo language. In honor of his contribution, scholarships range from $1,000.00 to $1,500.00.
Dr. Robert W. Young, professor emeritus of Linguistics at the University of New Mexico, an American linguist, known for his work on the Navajo language. With Navajo scholar Dr. William Morgan, Young compiled the monumental The Navajo Language: A Grammar and Colloquial Dictionary, accompanied by a 400-page grammar sketch. Young, Morgan and Sally Midgette also produced the Analytical Lexicon of Navajo, which organizes the lexicon by root.
In 1996, Dr. Young and Dr. Morgan were honored in the Navajo Nation Council Chambers for their work on the Navajo Language. They were presented Pendleton blankets embroidered with the seal of the Navajo Nation.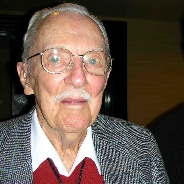 The Robert W. Young Endowed Scholarship supports students in the Department of Linguistics who are engaged in the study of Native American Linguistics. The Robert W. Young Scholarship was established in 1997 by Dr. Garland and Judy Bills to honor Dr. Young and his work.You can help honor Dr. Young and his pioneering work on the Navajo (Diné) language by giving to the scholarship fund by clicking the link above.